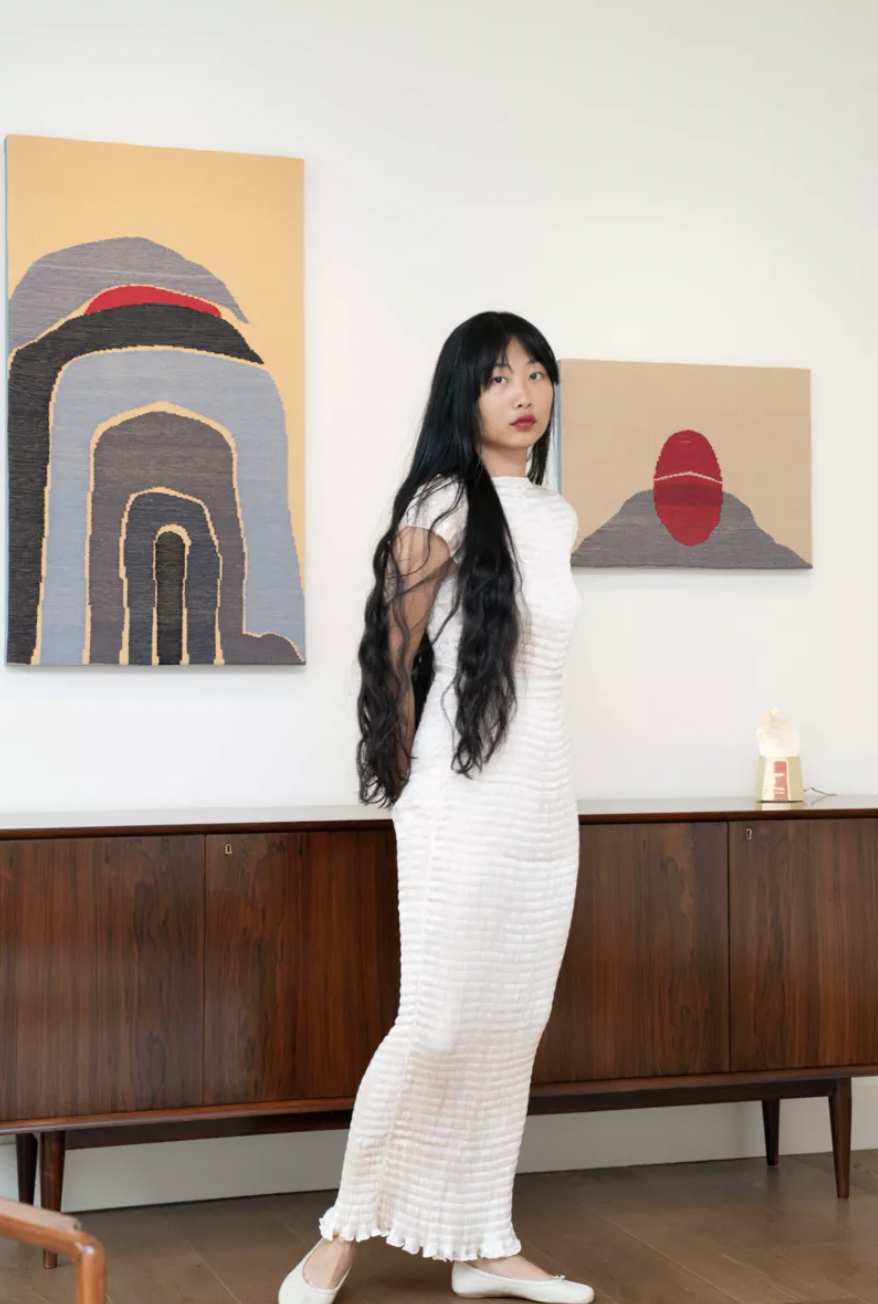 Miranda Fengyuan Zhang
Born 1993, Shanghai, China
Lives and works in New York, USA
Miranda Fengyuan Zhang embraces the tradition of textile, taking weaving and knitting as a tool to explore the formal language of painting. Born in Shanghai and based in New York, the artist is fascinated by the incidental moments between time, moments that are often neglected and overlooked. Even though the artist chose to focus on the medium of textile, her practice has always been centered around image-making, creating a dialogue with sources as diverse as 20th century abstraction, Chinese ink paintings, Yasunari Kawabata, Wang Wei, Schumann, Bach, and more.
In the artist's early series of knitted works, her process is rather intuitive. She expands her knowledge through experimenting with different threads, exploring the possibility of texture and color. She enjoys taking her needles on trips, rendering a Garden of Eden, emerging herself in a kingdom of colors, reminiscing cool evenings in the desert, quiet afternoons over the lake.
Later in her practice, she acquired a loom in her studio. From knitting to weaving, she relocated to a physically static condition. Working increasingly like a hermit, she still takes inspiration from outside and time in between. She weaves her recollections, portraying the ever-changing lights and shadows on the building outside her New York fire escape window, from her train ride from Geneva to Paris, during her walk through the rice field… Those intrinsic moments bring her thoughts to outer space, a void of nothingness yet charging the artist so intensely and fully.
Her weaving often comes in vertical format, symbolizing windows, doors, and thresholds as means of reflecting her parallel outside and inner world. When looking from afar, the images solidify as the pixels disappear; looking closely, it becomes loose geometry as rigorous lines and dots appear. She abstracts architecture, landscape, and seascapes, eliminating human presence, sometimes accommodating the logic of weaving, other times challenging it. As the artist negotiates with the limitations of textile, the warps and wefts beget or relinquish their agency from time to time.
The process of weaving to her is a continuous editing as it can't be altered and revised, and doesn't even allow her to see the full picture until the months of work have been taken down the loom. This labor-intensive journey affords her to wonder, to wait, to be exposed to the unknown, the uncontrollable… In this passing time, what has been missed, or remembered?
Zhang has had solo shows at Capsule Shanghai (Shanghai), Mendes Wood DM (São Paulo; Brussels), Halsey McKay Gallery (New York), and Candice Mandy Gallery (New York). Other exhibitions include: Clearing Gallery (New York; Los Angeles) and Chambers Fine Art Gallery (New York). She has been the recipient of the La Maison de l'Art Contemporain residency in Asilah, Morocco and the Arquetopia Foundation in Oaxaca, Mexico.